Warren Weir wins Olympic 200m bronze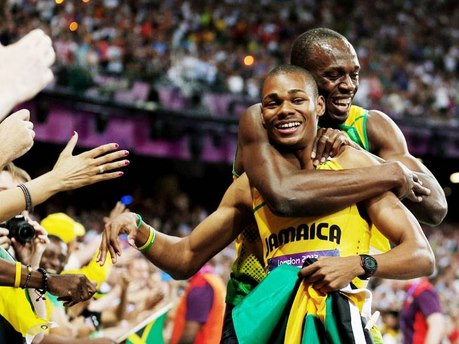 Calabar's Warren Weir became the latest in a line of great Old Boys to mount the Olympic podium -- by earning an exciting and well-deserved bronze medal behind fellow Jamaican and Racers clubmates Usain Bolt and Yohan Blake. His time of 19.84 also makes him the 3rd fastest Jamaican ever, behind Bolt and Blake and ahead of Donald Quarrie's 19.86 in 1971. Naturally, that also makes Warren the fastest Calabar athlete ever over 200 metres -- astonishing, considering that we have produced the likes of Roy Bailey, Ramone McKenzie, Dwight Thomas and Daniel England.
Warren Weir was born in Refuge, Trelawny on October 21st 1989, which explains his phrase 'Di whole a Trelawny' in a post-race interview. He moved to Portmore to live with his father, attended Calabar and was vice-captain of Calabar's winning track team. But he was a sprint hurdler and a pretty good one at that, with a personal best of 13.65 seconds in the 100m hurdles in June 2007. However, he suffered a series of injuries -- particularly with the stress of hurdling -- that kept him from being a household name prior to 2012.
It was after joining Racers Track Club that his career took a turn for the stellar. How Glen Mills saw a future 200m star in the slightly built, oft injured hurdler only he knew, but it was a genius move by the master coach. But it was Warren, with his training, dedication and heart, and his belief in his ability and his coach that made 2012 what it was. And what a year it was! In a series of races Warren recorded a set of low 20-second times at meets in New York, the Cayman Islands and Kingston, showing a consistency that made him a rising star to watch.
But first came the Jamaica trials and Warren was immersed in the most impressively deep 200-metre field in any country's history. With Bolt and Blake expected to get the top two spots the race for the third spot was between Nickel Ashmeade, Nesta Carter, Julian Forte and Jason Young. And fight he did, clinging to the wings of the plane to London, and remembering the instructions of coach Glen Mills to hold his form Warren ended up 3rd in 20.03 just ahead of Ashmeade.
Then came the big stage of the London Olympics. Some men wilt under pressure and some rise to the occasion. Warren took it in stride, at first enjoying the experience and becoming a vibes man in the Jamaican camp. Showing an impressive second talent, Warren produced two popular behind-the-scenes videos of the Jamaican team at their Birmingham training village and at the opening ceremony in London. Jovial off-track, but serious on-track, Warren produced a stunning series of races -- looking easy in his 200m heat, then just-losing to Martina in the semis before sealing the Jamaican 1-2-3 in the finals.
It has been 60 years since Herb McKinley stood on the podium -- in Helsinki in 1952. Then came Warren Weir in a post-race interview to proclaim the pride of being a Calabar Old Boy and remembering the great man Herb -- on the BBC, no less. The great school and the great man and the soon-to-be great Warren Weir on the greatest stage of all - The Utmost for the Highest.
Warren can be followed on twitter at @Warren_Weir, on Facebook and you can watch his #TeamJamaica videos Chilspot#1 and Chilspot#2 on youtube.