C'Bar Old Boys' Association unveils tribute sign at McKenley's grave
BY SEAN A WILLIAMS Assistant Sport Editor - Jamaica Observer
Thursday, July 12, 2012
AS he did in his long and colourful life, Herb McKenley still manages to draw praise and admiration even at his final resting place at the National Heroes Park located in the Jamaican capital.
At an unveiling of a tribute sign erected to stand watch over the legendary Olympian and "father" of Jamaica's track and field, former Prime Minister of Jamaica PJ Patterson led the tear-jerking tributes on Tuesday.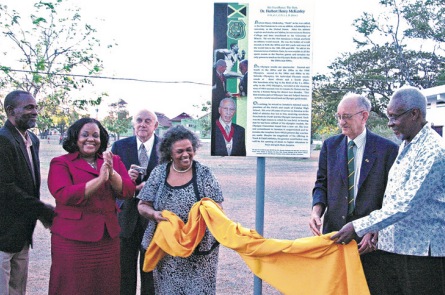 The sign, that bears a summary of the track and field great's life and achievements, was planted at the headstone of McKenley to also commemorate his 90th birthday.
A large cake, which featured a photo of the former Calabar High student, was cut and shared among the guests of the Calabar High School Old Boys' Association, which staged the evening's event.
Patterson, a Calabar old boy himself, branded 'Herb' as a "great motivator."
"He was a motivator par excellence... and when the boys were not responding, he'll shed a tear and say you 'can't let Herb down'," said the former prime minister.