A Ya So Nice
THE popular saying, "A Ya So Nice", reverberated around the school grounds of Calabar High yesterday morning as they celebrated their recent athletic success at devotions.
Chants of "C'bar, C'bar" echoed around the auditorium, which was filled to capacity as the school, in its 100th year of existence, displayed the three major trophies won so far in the academic year.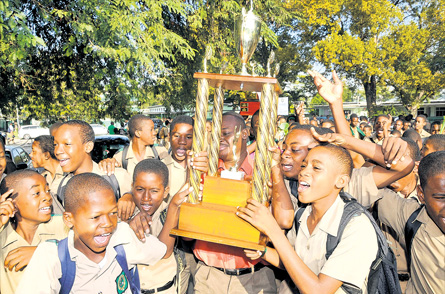 Calabar swept the ISSA/GraceKennedy Boys' Athletics Championships last Saturday to add to the Schools' Challenge Quiz and rugby titles which they celebrated in an emotional ceremony.
Calabar, established by the Jamaica Baptist Union in 1912 for the children of Baptist ministers and poor blacks and was named after the former slave port Calabar in Nigeria, couldn't have written the script any better for its 100th Anniversary.